Hurray, we made it through another winter, Spring is here and that sunlight is such a balm. The new kitchen is really holding temperature well now that we have sun, it hovers naturally around 15 degrees during the day. I leave the little electric heaters on at night still, just in case it drops below zero, or if there's a wind. We have plans for next winter to build "shutters" over the existing very old folding doors, so that North wall will be insulated and protected. For it's first winter, the kitchen fared very well. The little Morso wood stove also really helped keep the temperature up too. It's also good for keeping my cup of tea warm as I work away, or for warming up after chopping wood in the snow.
I needed granola today, I always have a jar of homemade granola on hand, I eat it every day. I'm also on a mission to clean up bits of ingredients in the cupboard, kind of like Spring cleaning, without the cleaning part. I added some apricot jam, vanilla syrup and bit of spices, in addition to hazelnuts I got at the Peterborough Farmers Market in the fall, and some dried fruit. The hazelnuts come in their hard shells, so it took some time to use the nutcracker to clean them up, but so worth it! I love how versatile this recipe is, and bonus, it's vegan. Feel free to experiment with flavours or items that are languishing in your baking cupboard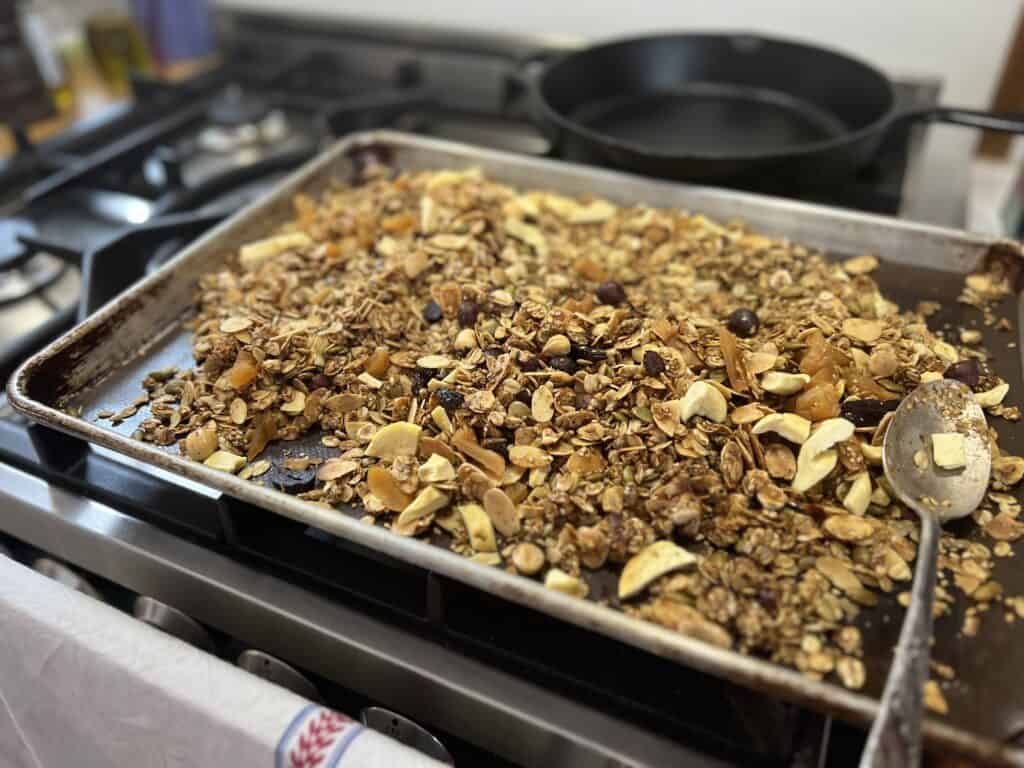 Hazelnut Granola Recipe
---
2 1/2 cups large flake oats
1/2 cup rye or spelt flakes (optional)
3/4 cup sliced almonds
3/4 cup hazelnuts, whole or pieces
2 T golden flax seeds
1 T sesame seeds
3 T raw pepitas
Good pinch sea salt (I like Maldon for it's delicate flavour)
Cinnamon, cloves, all spice, cardamom, ginger, whatever you like
1/4 cup melted coconut oil
5 T maple syrup
(I reduced the maple syrup to 3T, as I used vanilla syrup and 1 T apricot jam).
Add—Ins after baking: chopped dried fruit, raisins, chocolate chunks.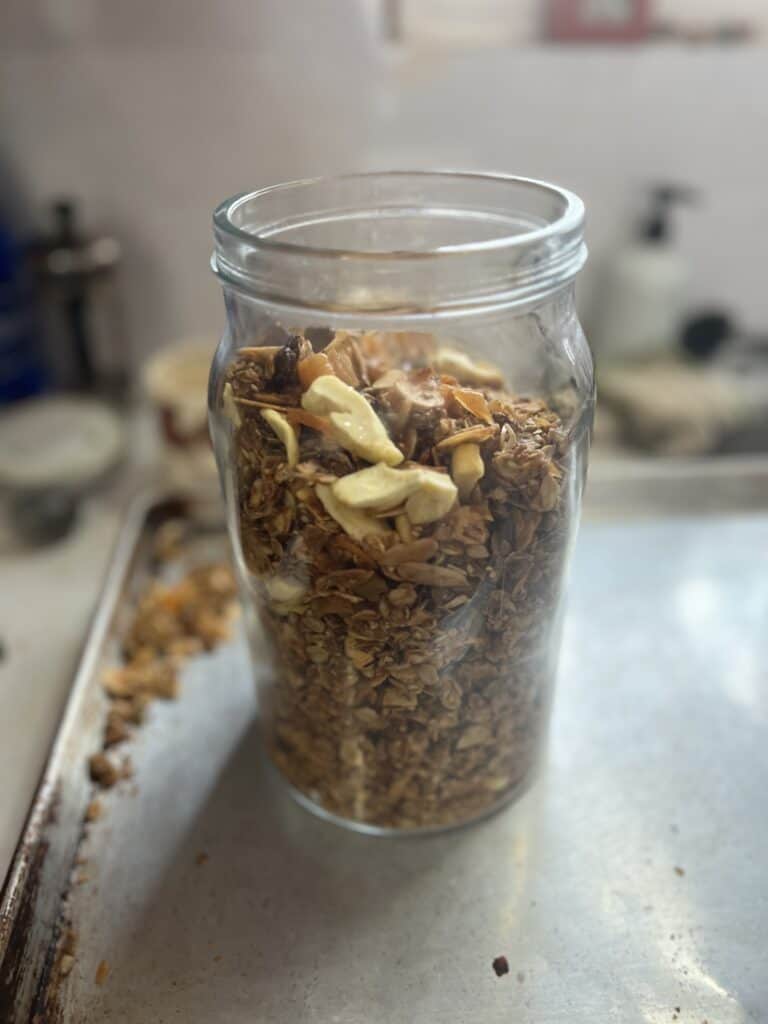 Mix in a large bowl with a thrifted vintage tablespoon (they're so much bigger), and bake on a lined baking sheet at 350F for approx. 25-35 minutes total, mixing every 10 minutes. I am not a huge user of timers, but I sure do for this, as there's nothing worse than burning this beautiful granola. Bake until the granola is a uniform golden brown, let cool on the tray until FULLY cooled, then store in a glass jar with a lid. ENJOY!
This makes a lovely homemade gift, I give this often for any occasion, including to the foster family that looked after our Wesley until we could come adopt him.