Weddings
SEASONALLY-APPROPRIATE HAND-MADE MENUS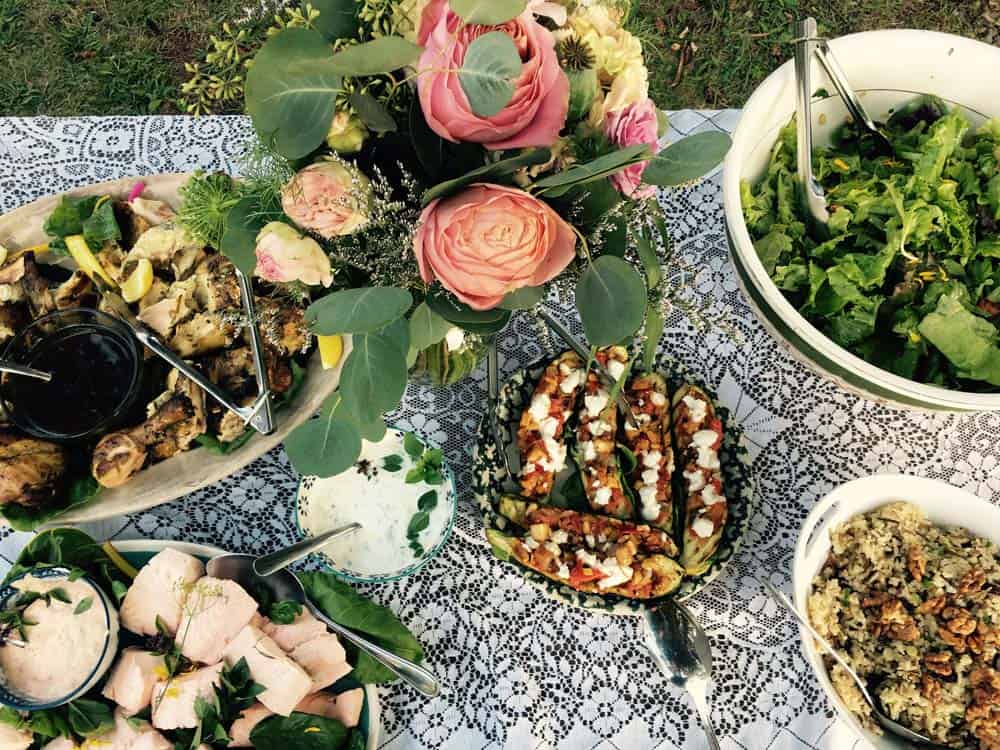 …why not have the best local food and service? BE offers seasonally-appropriate hand-made menus that reflect our collective values: sustainable and ethically-raised meats and fish, or thoughtfully prepared plant based options, paired with farm fresh veggies and fruits. Our servers, chefs and runners are smart, attentive and energetic, allowing you to relax and enjoy your day. 
We love our rustic served buffet, which beautifully showcases Ontario bounty made into delicious and nutritious salads, breads and mains. 
Our favourite service style is family style, with rustic, heaping platters and bowls of salads and grilled meats and fish, guests pass and help themselves.  This style serves up a feeling of conviviality and generosity, encouraging good cheer around the tables. 
Below is a sample wedding dinner menu, items will be substituted based on seasonality and availability. Some items, such as fish are subject to market value.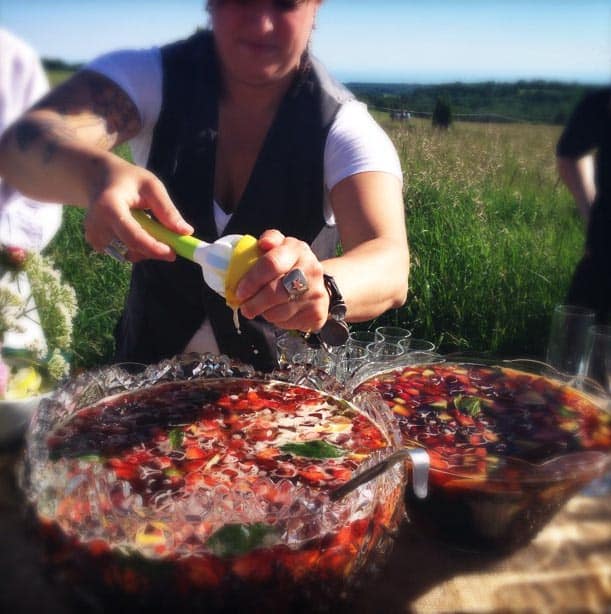 SEASONAL ONTARIO FLAVOURS
*Choose 4-6 types (depending on number of guests) of Hors d'oeuvres for the reception, with a non-alcohol Strawberry or Raspberry Lemonade -or- Lemon Ginger Iced Tea. 
Served in glass canister, garnished with mint and lemon slices
Appetizers would be served by our servers with cocktail napkins. 
(Please refer to Hors d'oeuvre menu)
Your choice of two Proteins, plus a Plant-based option if needed:
*Moroccan Spiced Whole Free Range chickens, lemon & herbs, carved and served with tzatziki 
*Apricot Chicken Skewers with garden herbs and lemon, Tzatziki on the side 
*Maple and Herb Grilled Organic Chinook Salmon with fennel and herbs, sweet pepper saffron aioli on the side 
*Charcoal Grilled Linwood Acres Trout, stuffed with fennel and lemon and garden herbs, and can be served with herbed white wine sauce
*Slow Smoked Brisket, finished on the charcoal, sliced and served with Silo Stout BBQ Sauce and Jus
*Thick Cut Farm Style Sirloin Steak, rubbed with Kosher Salt and Rosemary, grilled, sliced and served with Chimichurri 
*Grilled Pork Loin, Cured with vegetables, garden herbs and juniper and served with Spring Rhubarb Chutney
*Whole Roast Hip of Pastured Beef, Rubbed with Grain Mustard and Rosemary, carved and served with Jus and good hot horseradish 
Plant Based Option:
Roasted Cauliflower Wedge with Lemon, Garam Masala and Chickpeas, Finished on the grill and served with Lemon Tahini Dressing and Toasted Niagara Hazelnuts
OR
Chickpea Curry with Spinach and Herbs
OR
Stuffed Patty Pans or Summer Squash with Ratatouille, Toasted Pine Nuts, Basil
OR
Sesame and Ginger Grilled Tofu Skewers with Summer Veggies, Honey Soy Dressing
OR
Seasonal Vegetable Paella
*Grilled local farm fresh vegetables, cracked pepper & olive oil, can include seasonal local asparagus, buttered sugar snap peas, summer squash, leeks, patty pans, or Hakurai turnips 
*Garlic mashed potatoes -or- Mint Buttered Baby Potatoes -or- Rosemary Roasted Potatoes -or- New Baby potato and Chive Salad with Grainy Mustard 
*Garden Spring greens, slivered spring onions, fresh herbs,Toasted Almonds, Local Goat Chevrai, Strawberries and light Balsamic vinaigrette
OR
*Garden Caesar salad with Sourdough Croutons and Creamy Garlic Dressing
OR
*Roasted Baby Beet Salad with French Puy Lentils, Cider Dressing, Candied walnuts, Fresh garden Herbs and Crosswind Farms Chevrai
OR
*Good Earth Quinoa Bowl with organic kale, local veggies, wild rice, garden basil, local sprouts, maple candied walnuts with lemon tahini dressing and edible flowers
*Orzo Salad with raisins, Curry, Spiced whole Almonds, Lemon and Swiss Chard
*House Baked Nine Grain Honey Rolls, Tuscan Olive Bread and our Nasturtium Honey Butter
Selection of market pies served with Kawartha Dairy ice cream
OR
Lavender Shortcakes with local Berries and Chantilly Cream
OR
Rhubarb Fools with Cardamon Cream
OR
Beet Brownies with Mocha Caramel Icing
*Fair trade organic coffee and teas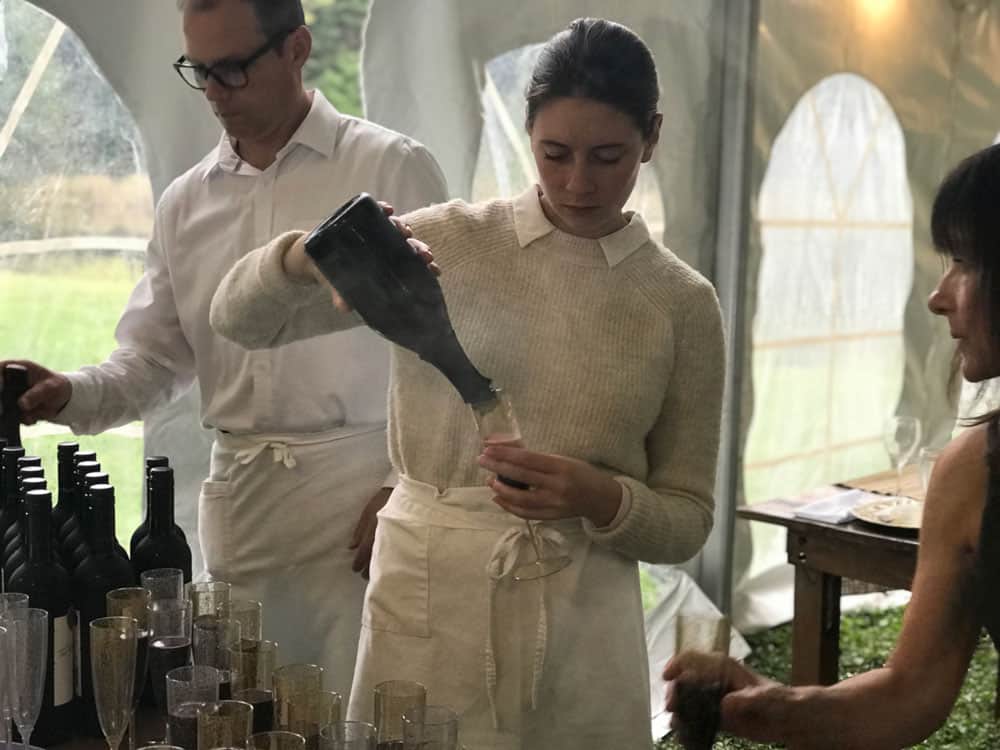 Depending on your budget, you may wish to add on antipasto sharing plates for each table as guests sit down, which includes an herbed honey chevrai timbale, olives, Quick pickled garden veggies, Prosciutto, Focaccia 
A seasonal served soup course can be very special and offers a lovely welcoming vibe
Half lobsters, grilled and basted with lemon, garlic and butter
Mussels Station with white wine, saffron, fennel and garden herbs and cream or Thai-Style with coconut milk, green curry and Thai basil
Taco Bar with local Pulled Roasted Chicken or Pork, Squash and Black Bean, avocado guacamole, lime crema, corn and flour tortillas, seasonal salsas and hot sauces
Poutine Bar with Oven Roasted Rosemary Potato Wedges, Empire Cheddar Co Op Curds, Miso Mushroom and Chicken Gravies, paper boats, wooden forks
Charcoal roasted Local Peameal Bacon on a bun with crunchy coleslaw, served on the dance floor in paper bags and napkins 
Greek-style Spanakopita (gluten, dairy)
Brie or Aged Cheddar and Leek tartlets (gluten, dairy)
Vietnamese Salad Rolls with cilantro, julienne veggies, avocado and mango (GF, V)
House-made Rosemary Focaccia with seasonal grilled/roasted veg and herbs (gluten)
Potato and Mint Samosas with Chickpeas, seasonal house chutney (gluten, V)
Traditional Two Cheese Bruschetta, basil, garlic (gluten, dairy)
Seasonal Soup Shooter with Mini Grilled Cheeses (gluten, may cont. dairy)
Black Olive and Mushroom tapenade, Sundried Tomatoes, Crostini, Rosemary (V, gluten)
Crosswind Farms Chevrai Tartines, raw beet, Roasted Squash, local sprouts (gluten, dairy)
Basil, Cherry tomato and Bocconcini Skewers with lemon zest, olive oil and sea salt (GF, dairy)
Black Bean and Kale Empanadas with Seasonal Chutney (V, gluten)
Seasonal Veggie Fritters, Garden Herbs, Lemon Tahini Dip (V, GF)
Tandoori Chicken Skewers with Mint Raita (GF, dairy)
Chicken Satays with peanut sauce (GF, peanuts)
Smoked Chicken, Cheddar and Sweet pepper Quesadillas with tomatillo Salsa (gluten, dairy)
Crab and Wild Leek Wontons (in Season) (gluten, dairy)
Crispy Sweet Coconut Shrimp, Sweet chilli sauce (gluten)
Crab and avocado California Rolls, ginger soy sauce (GF)
Smoked Salmon on Wild rice pancakes, horseradish cream (dairy, GF)
Mini Local Sausage rolls, seasonal chutney (gluten)
Devils on Horseback: Dates stuffed with Grana Padano, wrapped in bacon (GF, dairy)
Mini Lamb Korma with spices, minted tahini sauce (GF)
Spiced Beef empanadas with Seasonal Chutney (gluten)
Crab Cakes with fine herbs and our Remoulade (gluten)