Parties & Shindigs
FOR LARGE GROUPS 15+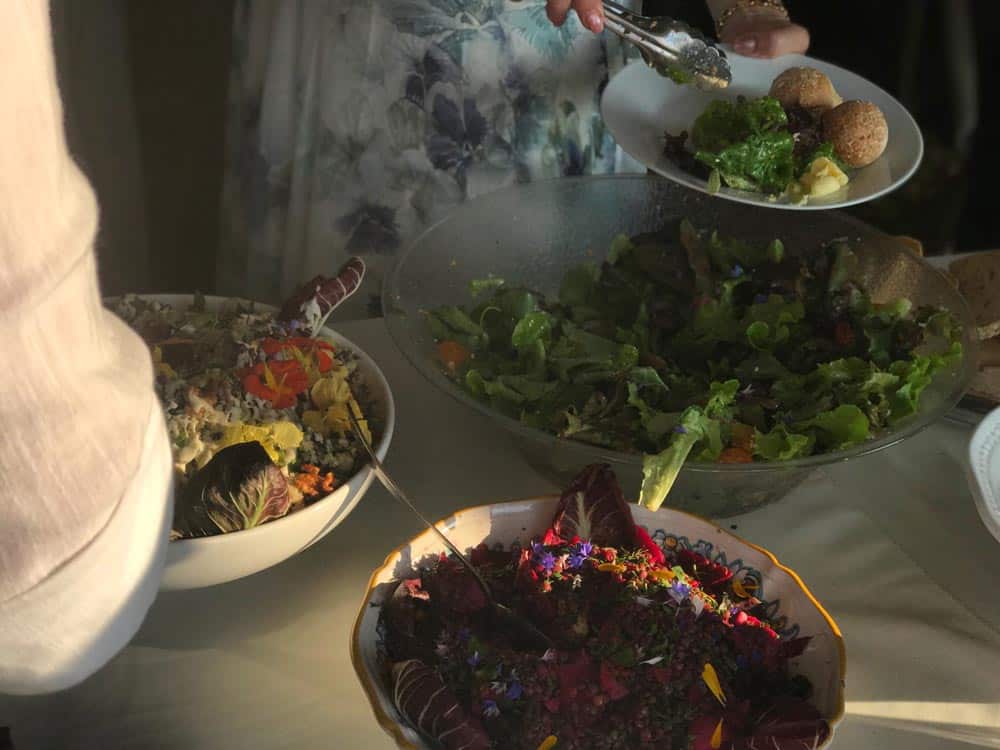 BE Catering is thrilled to offer clients unique curated events, based in seasonality and freshness of ingredients, from appetizers, all hand made, to rustic mains, artisanal breads and focaccia and simple desserts served family style to encourage a spirit of sharing and bountifulness.
Our style of food can be described as healthy, seasonal and generous. We love the Mediterranean style of cooking over coals or wood, using ingredients that have been hand harvested by farmers we know personally, at the peak of in-season freshness. The meals are carefully prepared and properly cooked with nice simple sauces to compliment the food. We utilize wooden boards, mixed vintage platters and bowls, edible flowers and herbs grown by Bonnie, for a rustic, unfussy, earthy vibe.
BE Catering is happy to offer many plant-based options, as well as accommodating dietary allergies or restrictions. Homemade refreshments that are alcohol free are also a popular option, such as Lemon Ginger Iced Tea, Rhubarb Mint Lemonade, Raspberry Lemonade, or Peach Iced tea.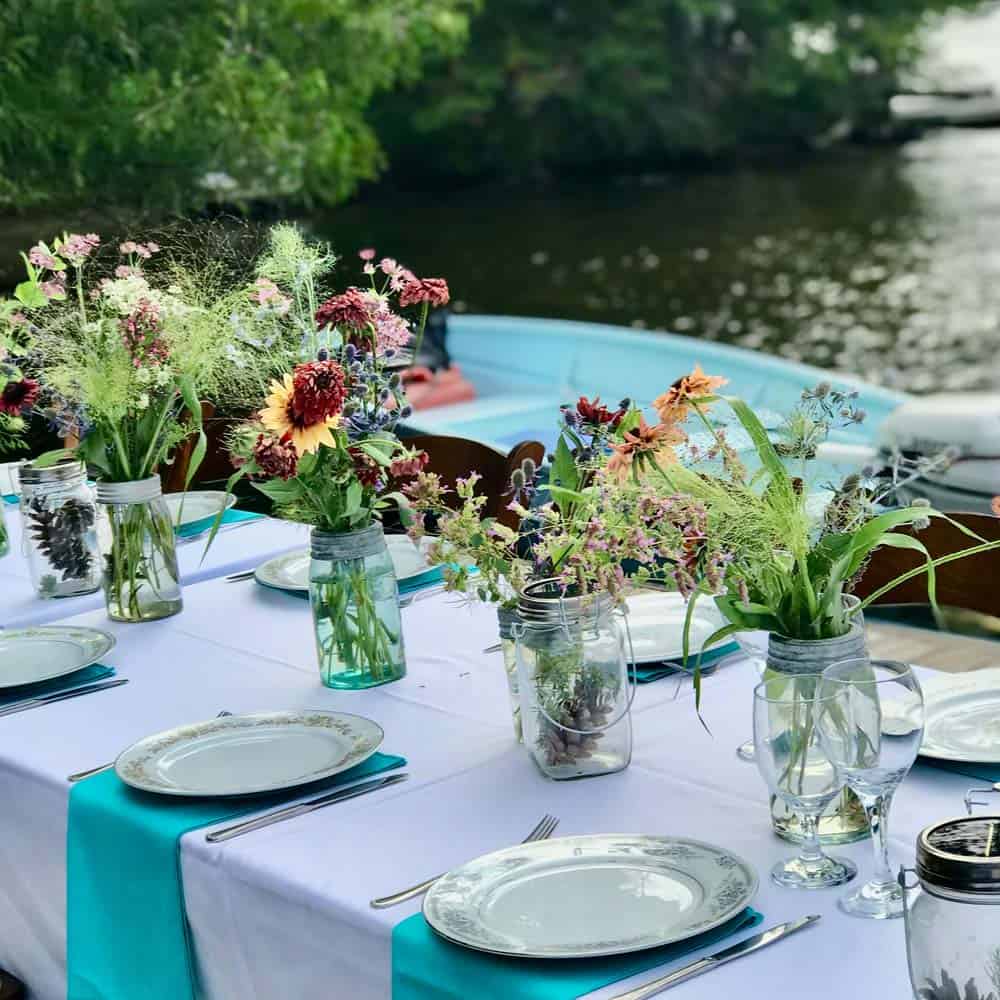 Set up and delivered with cutlery roll ups in linen napkins, stacks of vintage plates, dinner is served casually and efficient, buffet style:
Simple Supper Menu for 15 + people
Grilled Apricot Chicken Skewers, Tzatziki on the side
Pea and Zucchini Fritters with garden herbs
Grilled local asparagus with lemon and fine garden herbs
Quinoa Pilau with wild rice, baby kale, roasted, spiced squash and lemon tahini dressing, topped with maple candied walnuts
Local Spinach salad with pepitas, scallions, edible flowers and Dijonniase dressing
Rosemary focaccia
Rhubarb Fools in mason jars with Chantilly cream
Roast Cured loin of local pork, with aromatic vegetables, juniper berries, roasted with grainy mustard and served with homemade applesauce
Stuffed patty pan squash with spiced chickpeas, kale and tomato
Grilled Local farm veggies
Field Greens or Caesar salad, garlic dressing, red cabbage and calendula
Tuscan olive bread
Apple crumble tarts
Boeuf Bourginon or Beef Curry or Chicken Ragout
Chickpea and kale curry loaded with veggies
Rosemary Roasted French Fingerling potatoes
Kale Caesar salad with sourdough croutons
Pan Roasted spiced squash, carrots and rutabaga with thyme
Nine Grain honey rolls with butter
Chocolate Beet brownies with mocha caramel icing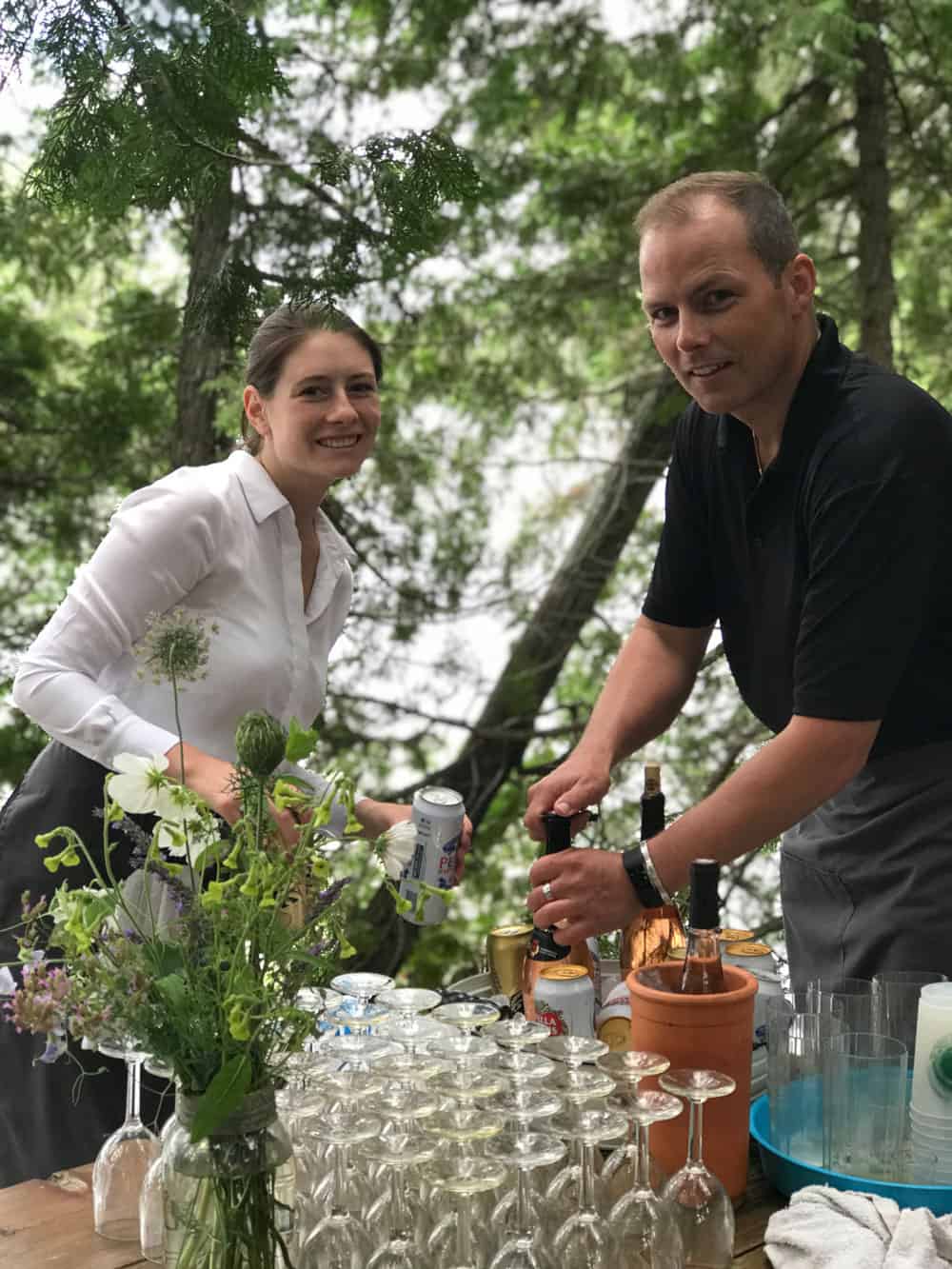 Bar set-up for outdoor party.
Greek-style Spanakopita (gluten, dairy)
Brie or Aged Cheddar and Leek tartlets (gluten, dairy)
Vietnamese Salad Rolls with cilantro, julienne veggies, avocado and mango (GF, V)
House-made Rosemary Focaccia with seasonal grilled/roasted veg and herbs (gluten)
Potato and Mint Samosas with Chickpeas, seasonal house chutney (gluten, V)
Traditional Two Cheese Bruschetta, basil, garlic (gluten, dairy)
Seasonal Soup Shooter with Mini Grilled Cheeses (gluten, may cont. dairy)
Black Olive and Mushroom tapenade, Sundried Tomatoes, Crostini, Rosemary (V, gluten)
Crosswind Farms Chevrai Tartines, raw beet, Roasted Squash, local sprouts (gluten, dairy)
Basil, Cherry tomato and Bocconcini Skewers with lemon zest, olive oil and sea salt (GF, dairy)
Black Bean and Kale Empanadas with Seasonal Chutney (V, gluten)
Seasonal Veggie Fritters, Garden Herbs, Lemon Tahini Dip (V, GF)
Tandoori Chicken Skewers with Mint Raita (GF, dairy)
Chicken Satays with peanut sauce (GF, peanuts)
Smoked Chicken, Cheddar and Sweet pepper Quesadillas with tomatillo Salsa (gluten, dairy)
Crab and Wild Leek Wontons (in Season) (gluten, dairy)
Crispy Sweet Coconut Shrimp, Sweet chilli sauce (gluten)
Crab and avocado California Rolls, ginger soy sauce (GF)
Smoked Salmon on Wild rice pancakes, horseradish cream (dairy, GF)
Mini Local Sausage rolls, seasonal chutney (gluten)
Devils on Horseback: Dates stuffed with Grana Padano, wrapped in bacon (GF, dairy)
Mini Lamb Korma with spices, minted tahini sauce (GF)
Spiced Beef empanadas with Seasonal Chutney (gluten)
Crab Cakes with fine herbs and our Remoulade (gluten)
Some other neat ideas:
To round out and bulk up appetizers, some fun party add-ons include a taco bar with all the fixings, or a late night poutine bar with gluten free gravies (vegan mushroom miso and chicken), or charcuterie, cheeses and Mediterranean dips with crackers, crostini and fruits.
A seafood station with fresh shucked oysters and all the fixings, or steamed mussels with different sauces, are other decadent ideas to bring the party. 
Holiday ideas include Sweet and Sour meatballs, baked brie with cranberry chutney, citrus spiced olives, spiced nuts and warm mulled spiced apple cider.